ContactBabel Rapport
Inner Circle Guide voor AI, Chatbots en Machine Learning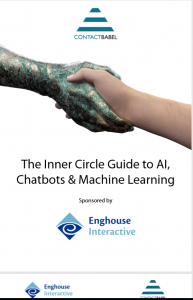 Er is veel interesse, er zijn nog vele vragen en velen hebben het overzicht verloren. Hoe we AI en slimme Chatbots in ons contactcenter zullen integreren, wordt de grote uitdaging.
Bij Enghouse Interactive helpen wij u om het overzicht te behouden. We vroegen de experten van ContactBabel om de mogelijkheden van deze nieuwe technologieën onder de loep te nemen.
In het 'Inner Circle Guide to AI, Chatbots & Machine Learning' rapport analyseert ContactBabel hoe we deze technologieën kunnen inzetten voor customer contact oplossingen. Het rapport geeft een realistisch overzicht van de implementatie en het gebruik van deze technologieën. En een inzicht over wat de toekomst zal brengen.
De 6 meest gestelde vragen van de potentiële gebruikers van deze technologieën werden voorgelegd aan Enghouse Interactive. Het antwoord is terug te vinden in het rapport.
Vul onderstaand formulier in om de "The Inner Circle  Guide to AI, Chatbots & Machine Learning" (in het Engels) gratis te downloaden.
Met het verzenden van dit formulier stemt u ermee in dat de Enghouse Groep (Enghouse Interactive Belgium nv, Enghouse AG, ANDTEK GmbH) contact met u opneemt via de verstrekte contactgegevens om u te informeren over producten, diensten , toekomstige webinars, evenementen en whitepapers van Enghouse. U kunt deze toestemming op ieder moment weer intrekken door u hier af te melden.